Karl Law: Wedding postponed until Prague stag man found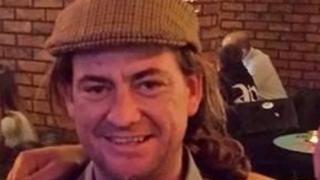 A bridegroom whose cousin went missing in Prague during his stag weekend has said he will cancel his wedding if his relative is not found.
Karl Law, 34, from Fareham, Hampshire, did not return from a night out in the Czech capital on Saturday.
Lee Cross, whose stag weekend Mr Law had been on with 12 other men, has been in the city searching for his cousin.
"There's no way I can get married without my cousin being there, or knowing what's happened," he said.
A group of six friends and family members have remained in Prague to continue the search for Mr Law, a builder.
Mr Cross said: "The people in Prague have been very helpful. Cafes and bars have been handing out hundreds of flyers for us.
"There is a river which is a five-minute walk from where Karl went missing - we've walked up and down it and searched every boat.
"If he was there I think someone would have seen him so I don't think that's part of our search any more."
The family have criticised the local police, claiming a lack of help with the search.
The BBC has made repeated attempts to contact Prague police, but has so far had no response.
Mr Cross, who is due to marry on 29 December, has returned to the UK briefly see his fiancee and children, but said he was flying back to rejoin the search on Sunday.
"I can't see any reason why he would disappear," he said.
"I want to find my cousin, I want to bring him home. We're very close - we love each other to bits."
An event organised by friends is due to be held later in Fareham to raise funds to continue the hunt for Mr Law.
His family have also made an appeal on Czech television and launched a campaign on Facebook and Twitter to try to find him.