Choudhry Zishan death: Brothers 'washed clothes after murder'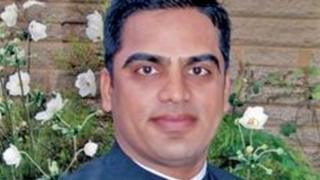 Two brothers went to a friend's house to wash their blood-stained clothes after murdering a newsagent outside his family shop, a court has heard.
Choudhry Zishan, 35, was assaulted in Eastleigh, Hampshire, in the early hours of 30 March, while his pregnant wife and son were in the flat above.
Jonathan McKinley, 22, of Chandler's Ford, and his brother Samuel, 25, of no fixed address, deny killing Mr Zishan in a "savage drunken beating".
The trial is at Winchester Crown Court.
Andrew Langdon QC, prosecuting, said Mr Zishan became unconscious shortly after the attack began and was unable to defend himself.
'Two-hour cycle'
"He was punched, he was kicked, he had his head rammed into a car and was left in a crumpled heap," he told the jury.
Winchester Crown Court was told the brothers stole cash, credit cards and cigarettes from Mr Zishan.
The brothers went straight to their friend Andrea Palmer's house where they put their blood-stained clothes and trainers in her washing machine, it was heard.
She woke to find them at her bedroom door and went downstairs to find the washing machine on.
Mr Langdon said: "If you think of the blood at the scene and the savage beating they had given him, they must have been covered in blood.
"Drunk they may have been, but they had the wits to put the items in the washing machine and set it on a two-hour cycle at 90 degrees."
The two brothers were thrown out of the house and the jeans, a top and a pair of trainers left in the washing machine were handed to detectives.
Blood from the McKinleys' clothes was matched to Mr Zishan while Jonathan's fingerprints were found smeared in the victim's blood on a car at the scene, the court heard.
The court previously heard the pair were stopped by police about 15 minutes before the attack after a member of the public reported their "hostile" behaviour.
Samuel was searched over a report he had an empty bottle in his possession before the pair were left to carry on their way.
The trial continues.