Titchfield Office of National Statistics staff criticise county bus cuts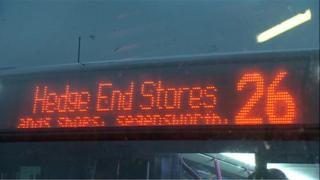 Bus cuts in Hampshire will make it difficult for workers to commute to the home of the UK census, staff have said.
Earlier this month, First Bus said it would reduce services in the county from January because of funding cuts from Hampshire County Council.
This includes the cancellation of the 26 service, used by workers who commute to the Office for National Statistics (ONS) in Titchfield, near Fareham.
The ONS employs about 1,000 people at the Titchfield site.
It plans to recruit more staff from 2015 onwards in anticipation of the next census in 2021.
A spokesperson for the ONS said the cuts could affect future recruitment.
'Not commercial'
The 26 service between Fareham and Segensworth has been subsidised for more than 30 years by Hampshire County Council.
But the council said the route was not cost-effective. It is attempting to make savings of £1.5m from what it spends on bus services.
Owen Rowe, a technical co-ordinator at the ONS who is partially sighted and uses the 26 bus, said: "Most mornings this bus has a good number of people on it, and there are frequently times when there's standing room only.
"It seems to be a profitable service at peak times."
Sean Woodward, Hampshire County Council executive member for economy, transport and environment, said: "We found around 20 people using it in the average day and that's a lot of money to run a bus and that's why it's just not commercial."