Cocaine worth £40m found in Portsmouth banana shipment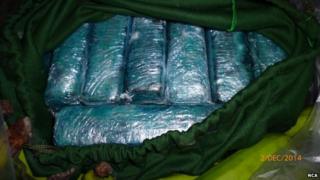 Cocaine with a street value in excess of £40m has been discovered concealed in a shipment of bananas from Colombia in Portsmouth port.
Approximately 300kg (660lbs) of the drug was seized following a search of cargo vessel Star Stratos on Monday.
It followed an operation involving the National Crime Agency (NCA), Border Force and Irish police.
The NCA said investigations were continuing to find the organised crime groups likely to be responsible.
Deputy director Tom Dowdall said: "Working with our law enforcement partners in the UK and Ireland we have successfully prevented a huge quantity of what is likely to be very high purity cocaine reaching our streets."
It is the second joint operation between the NCA and An Garda Síochána, the Irish police, to have resulted in a large cocaine seizure in less than three months.
In September around a tonne of cocaine was seized by the Irish Naval Service from the yacht Makayabella about 300 miles (480km) off the south west coast of Ireland.