Barton Common revamp attracts rare birds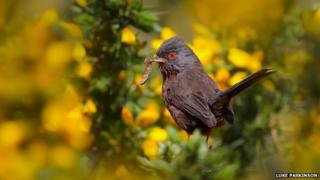 A rare bird has been spotted on a Hampshire common for the first time in a decade following a project to improve the habitat for plants and wildlife.
The Dartford warbler was recorded at Barton Common in New Milton following the introduction of grazing ponies there earlier this year.
The bird, which declined to just a few pairs in the 1960s, is on the International Union for Conservation of Nature Red List of Threatened Species.
It was last seen at the common in 2004.
Keith Betton, county recorder for the Hampshire Ornithological Society, said: "The grazed gorse at Barton Common is a good habitat for the birds and I'm hopeful that in the coming months we will record even more species on the common for the first time.
"There are two birds present so I am hoping they may stay around for the breeding season."
New Milton town councillor Geoffrey Blunden said: "I am pleased the scrub clearance and reintroduction of grazing stock is already helping to return the common to its former glory.
"One of the aims of these changes is to improve the site as a habitat for many types of plants and wildlife, so to hear the Dartford warbler on the common is a real joy."