Denmead community group reopening Fox and Hounds pub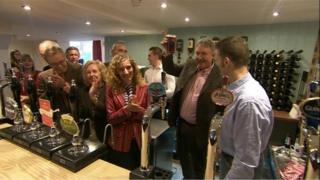 A village pub once earmarked as a site for new housing is to be reopened by the community group that saved it.
The former owners of the Fox and Hounds in Denmead, Hampshire, had wanted to build two homes on the site after the pub shut in 2012.
But, residents persuaded Winchester City Council it was a community asset and planning permission was refused.
Villagers then formed a co-operative and raised £450,000 to buy the pub, which reopens on Saturday.
The co-operative bought the pub in July and has since carried out extensive renovation work.
Rob Stark, community co-ordinator for the Fox and Hounds, said: "When we took it over, this place was totally derelict.
"We've replaced the floors, the ceiling, walls, windows, the whole lot, and it's a credit to the community."
The co-operative raised £300,000 from the community and the remaining £150,000 from commercial lenders to buy the pub, which has been trading since the 1800s.
Mr Stark added: "It's not just a pub it's a community focal point.
"This end of the village, we've missed it so much for the last two and a half years."