Peter Beaver jailed for killing wife in Havant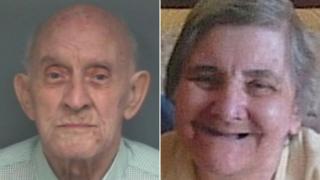 An 81-year-old man has been jailed for killing his wife of 60 years.
Annie Beaver, 81, who was discovered by police at the couple's home in Sherfield Avenue in Leigh Park, Havant, on 23 November 2013, died from "several" stab wounds to her chest.
Her husband Peter Beaver denied murder but admitted manslaughter on the grounds of diminished responsibility at Winchester Crown Court.
Beaver, who suffers from dementia, was jailed for three years.
Kerry Maylin, of the Crown Prosecution Service in Wessex, said it was a "sad case" where a "loving couple" married for 60 years could not care any longer for each other because of ill health.
The couple had two sons and grandchildren. Beaver had become his wife's carer, but her health had deteriorated.
'Tragic case'
"Mr Beaver's grandchildren witnessed how he did not cope very well looking after his wife, as he was seeing his wife's health getting worse," Ms Maylin said.
"This took its toll on him as his health had deteriorated in the six months' prior to his wife's death."
Ms Maylin said Beaver woke up his son on the morning of 23 November and said he had killed his wife, who had diabetes.
She said: "The medical reports showed that at the time of the offence, Mr Beaver suffered from an abnormality of mind and as a result would have been unable to exercise any willpower or to control his physical acts.
"This abnormality of mental functioning would have been caused by his deteriorating health and lack of sleep.
"It is a tragic case as Mr Beaver will have to live now for the rest of his life with something he was unable to prevent, him killing his wife of so many years."