Mayflower cruise terminal gets £6m makeover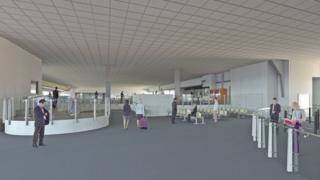 Work has started on the £6m renovation of a cruise terminal in Southampton.
The Mayflower cruise terminal's departure, check-in, security and passenger lounges and drop-off and pick-up areas have been redesigned.
Steven Young, director of port services and government affairs at Carnival UK, said the aim was to create a "stress-free travel experience".
The work, which involves removing 100 tonnes of walls and floors, is due to completed by April.
Operator Associated British Ports (ABP) said the work would bring the terminal "in line with the requirements and standards of the modern-day cruise ship".