Marriage proposal mapped out by Portsmouth jogger's app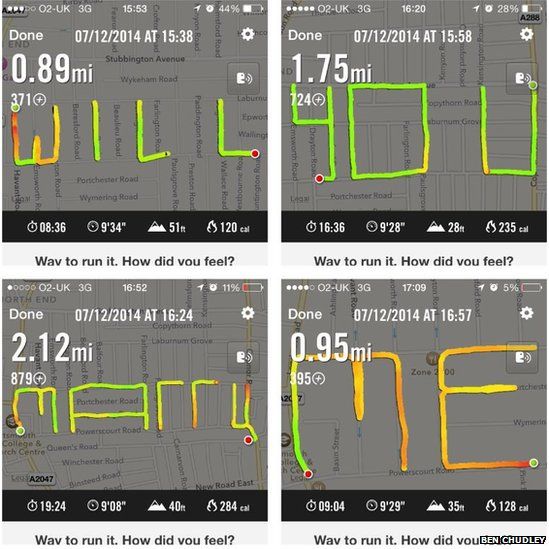 A Portsmouth runner has proposed to his girlfriend by spelling out "Will You Marry Me" using a GPS tracking app.
Ben Chudley, 28, used a running app to track his progress around the city's streets before posting the route on Facebook.
When he posted it on Tuesday evening, his girlfriend Olivia Abdul saw it and accepted his proposal.
Mr Chudley, who has also drawn dinosaurs and cartoon characters in the same way, said the idea was "very me".
He explained he had run about 15 miles (24km) in total, but had the GPS tracking turned on to spell out the lettering over 5.7 miles (9km).
Mr Chudley told his girlfriend he was going out for a run before posting the map on Facebook and returning, with flowers and a ring, to hear her response.
He admitted posting it publicly "could have been very embarrassing if she had said no".
Mr Chudley started a Facebook group of similar 'drawings' after noticing that one of his routes "looked a bit rude".
In the past he has attempted a seahorse, dinosaur and Spongebob Squarepants but said Portsmouth's regular street layout made lettering more straightforward.
He added making a wrong turn half way through a run can be "heart breaking" as it means having to start the tracking again.