BAE awarded £270m contract for Royal Navy torpedoes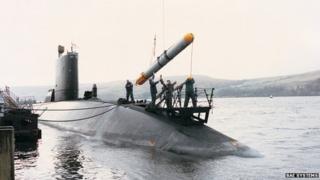 BAE Systems has been awarded a £270m contract to upgrade the Royal Navy's Spearfish heavyweight torpedoes.
The contract will extend the manufacturing of the torpedoes in Portsmouth for 10 years.
The programme supports 100 jobs in Portsmouth and will create 40 new skilled engineering roles.
The Ministry of Defence has already awarded BAE Systems a £600m contract to run Portsmouth Naval Base and a £70m Type 45 destroyer support contract.
The upgrade will include a new warhead, a change to the fuel system to improve safety, full digitisation of the weapon and a new fibre optic guidance link to improve performance.
Designed and manufactured in Portsmouth, the torpedoes are carried by the Royal Navy's Astute, Vanguard and Trafalgar Class submarines and can be used underwater and on the surface.
Spearfish torpedoes hone in on targets using sonar and will be controlled by the submarine after launch through the new fibre optic link.