Cunard cruise circles English Channel for four days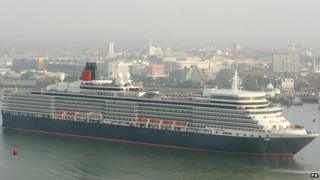 More than 2,000 Passengers were stuck on board a cruise ship that circled the channel for four days because of stormy conditions.
Cunard's Queen Elizabeth left for Amsterdam on Friday but was unable to reach its destination and returned to Southampton on Monday evening.
Passenger Charmaine Lynch said: "I think people were a bit fed up."
A Cunard spokeswoman apologised but said the safety of the passengers and its ship would not be compromised.
Ms Lynch, from Aldershot, Hampshire, was on the cruise with her parents, who were celebrating their 55th wedding anniversary, and her daughter and son-in-law.
'Additional entertainment'
She said they were "disappointed" after they arrived within 18 miles of Amsterdam and were unable to dock.
"We were not told until late Saturday that we weren't going to make it."
She said passengers were offered $75 each to spend on board as a gesture of goodwill.
Fellow passenger Mark Ellerby, from Birmingham, added: "There were people who did go down and protest. People were rightly angry.
"I think they [Cunard] could have dealt with it so much better."
The cruise, carrying about 2,100 passengers, was due to spend a day in Amsterdam and prices started at £350 for the four-night trip, a Cunard spokeswoman said.
She said the captain looked at two alternative ports of call which were both unsuitable due to similar windy weather conditions.
"Guests have been given a gesture of goodwill for this and we put on additional entertainment onboard as well as all the usual activities and fine dining as you would expect from Cunard," she said.