CCTV images shown in Hampshire shoplifting crackdown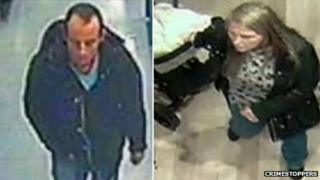 CCTV images of suspected pre-Christmas shoplifters have been released by police as part of a campaign to cut down on the crime in Hampshire.
One woman is being sought after £225 worth of children's clothes were stolen from Next in Hedge End.
Officers are also looking for a man after a new bike was wheeled out of Halfords in Eastleigh.
Shoplifting costs UK retailers more than £500m annually, according to the British Retail Consortium.
Owner of Shirley Market in Southampton, Phil Gallagher, said he was dealing with shoplifting incidents on an almost daily basis.
"If you lose even 2 or 3%, over a week, a month, a year, it is a big number and it hurts," he said.
Hampshire Police said patrols in busy areas like Southampton city centre had been increased and photographs of known shoplifters had been circulated to traders.
Sgt Martin Conlan said: "You get a wide variety of shop theft, from people who can't make their budget to teams of organised shoplifters who will do a big hit on one store."