Southampton hospital under 'intense pressure'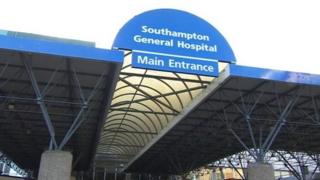 A hospital is under "intense pressure" because too many patients are not getting help through their GP or by dialling NHS 111 early enough.
Southampton General Hospital has seen increasing numbers of patients with respiratory problems that have been left untended.
Andy Hyett, deputy chief operating officer, said people should seek medical advice earlier.
Other people have come to A&E with only sickness and diarrhoea symptoms.
The hospital said this increased the risk of infection.
Lymington New Forest Hospital has opened additional beds to help meet demand at Southampton General Hospital and introduced a new triage service to direct patients to the most appropriate care.
Seven additional beds have been in operation since October and a further four will come into use from New Year's Day.
Portsmouth St Mary's NHS Treatment Centre has also extended its opening hours over the new year period to ease pressure on the city's Queen Alexandra Hospital.