Duke of Wellington dies at Stratfield Saye, aged 99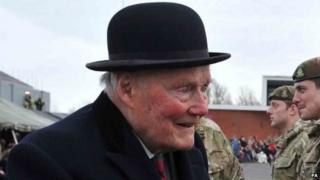 The 8th Duke of Wellington has died at his home in Hampshire, aged 99.
Arthur Valerian Wellesley died peacefully at Stratfield Saye Estate, near Basingstoke, surrounded by his family, a spokesman said.
Also known as the Prince of Waterloo, the duke was a descendant of the 1st Duke of Wellington, who defeated Napoleon in the Battle of Waterloo.
A private family funeral will be held at Stratfield Saye Church on 8 January, the spokesman said.
A memorial service will also be held in London, the details of which are to be announced.
Lords reform
The Duke of Wellington title was created for Arthur Wellesley, the 1st Duke of Wellington, following the defeat of Napoleon.
Arthur Valerian Wellesley was born in Rome on 2 July 1915 and attended Eton and New College, Oxford.
He had been a member of the House of Lords from 1972 until 1999 when the House of Lords Act meant he lost his inherited right to a seat.
His death comes six months before the 200th anniversary of the Battle of Waterloo.
He is succeeded by Arthur Charles Valerian Wellesley, 69, who becomes the 9th Duke of Wellington.