Calls for Itchen Bridge toll relief during roadworks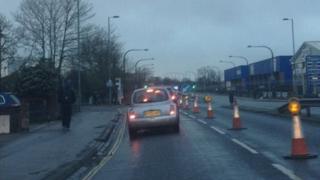 Motorists have called for tolls on Southampton's Itchen Bridge to be suspended during work on another river crossing.
Northam Bridge, which carries the A3024 road as a dual carriageway, is being upgraded in work expected to last until May.
An online petition said drivers had little alternative but to pay to use the Itchen toll bridge.
Southampton City Council said waiving tolls could increase congestion.
Lane closures and a reduced speed limit will be in place during the £1.2m work on Northam Bridge, which started on Tuesday.
The concrete bridge, built in the 1950s, is having its road and pavement surface replaced with waterproof protection added.
Drivers have been advised to plan their journeys, and if possible, use alternative routes.
The main alternative river crossings are at Cobden Bridge and the Itchen toll bridge which charges 60p per peak time crossing for cars and up to £25 for HGVs.
Among the 1,400 people who have signed the petition to have toll charges waived is Trevor Webb who posted: "The disruption on Northam Bridge is required but surely to ease congestion the local council could suspend the fees for a few months?"
Self-employed cement lorry driver John Hockey said toll charges were prohibitively expensive.
"I've got to be moving to deliver - if I'm stuck in traffic for an hour, I don't get paid." he said.
Southampton City Council said tolls were governed by the Hampshire Act.
"Removing the tolls would not allow more vehicles to flow over the bridge at peak times, but would encourage more drivers from outside the city to use the bridge to the disadvantage of city residents," a statement said.