Hoegh Osaka: Tugs to abandon vessel if 'winds take over'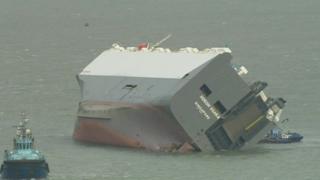 Tugs holding the listing stricken cargo ship Hoegh Osaka in the Solent will let go of the vessel if they lose control in gales set to sweep in.
The ship anchored at Alpha Anchorage, near Lee-on-the-Solent, has been positioned to reground on a sandbank.
Bram Sperling, from salvors Svitzer, said: "If the wind takes over the vessel we've informed the tugs to take care of themselves."
Severe gales of up to 75mph (120km/h) are expected on the south coast later.
On Saturday, one of the tugs helping to keep the ship in place collided with the vessel in high winds.
About 3,000 tonnes of excess water is also being kept in the vessel to give the ship stability in the expected stormy weather.
Hugh Shaw, of the Maritime Coastguard Agency (MCA), said: "The important thing is that the vessel is stable.
"Once this bad weather goes through we're looking at five to six days work before we can bring her back into port."
An air exclusion zone is also in place so a dedicated helicopter can carry the salvors to and from the ship.
The team of 15 salvors working on the ship, which is listing at 52 degrees, have so far had to be roped onboard.
Mr Sperling, the senior salvage master, said it could take "a day" to reach some parts of the ship.
He said: "We've managed to create a route inside using metres of rope, but you can't just walk from A to B. It takes a few hours to go just 10 to 20 metres."
Some of the ship's cargo of 1,400 cars and 105 pieces of construction equipment on decks two and four are now completely under water.
The 51,000-tonne ship, was beached deliberately on Bramble Bank sandbank on 3 January after it began listing as it left Southampton.
It floated free from the sandbank on the high tide on 7 January and has been held by tugs in deeper water while an assessment and rescue plan is put together.