Virgin teenager Ben Moynihan: Stab victim 'went into panic'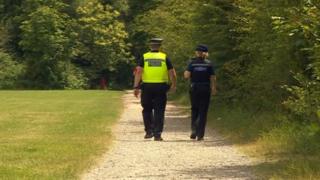 One of three women attacked by a teenager said her "whole body went into panic" after she saw blood and realised she had been stabbed.
Ben Moynihan, 18, admits wounding three women in Portsmouth last summer but denies attempted murder.
A jury at Winchester Crown Court was played a police interview with Katie Hay, 20, in which she said she "thought she had been punched".
The incident happened in June in Southampton Road.
Ms Hay said a man was walking "too close" as she was walking along while texting on her mobile phone.
'Still a virgin'
She said he turned and she felt a bang to her chest. Initially she thought he had punched her but as he ran off he waved what looked like a kitchen knife.
She said she realised she was bleeding and her "whole body went into panic".
The prosecution allege Moynihan used a 4.5in knife (11.5cm) in the attacks.
Previously the jury heard how Moynihan, of Knightstone Court, Portsmouth, wrote: "I am still a virgin, everyone is losing it before me, that's why you are my chosen target."
The attacks happened in Portsmouth in June and July.
Three women, aged 20, 45 and 66, sustained serious but not life-threatening injuries in separate attacks by a stranger in Cosham and Hilsea.
Kerry Maylin, prosecuting, said that the defendant left two letters for police.
One, placed on a police van, said: "All women need to die and hopefully next time I can gouge their eyes out.
"Every time I stab someone I like to go home and smell the flesh I have ripped out. Come and arrest me for God's sake before I hunt for my fourth victim."
Mr Moynihan also faces alternative charges of wounding with intent to cause grievous bodily, which he also denies.
The trial continues.