Cargo ship Solent: How will they get it back upright?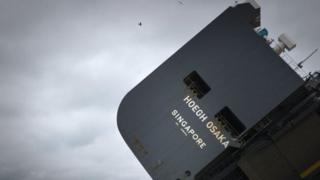 Two weeks since 25 crew were rescued when the Hoegh Osaka was run aground, the cargo ship is still stranded in the Solent. But how do you rescue a vessel the size of London's "Walkie Talkie" skyscraper?
Dutchman Bram Sperling has worked on salvage jobs in more treacherous conditions than the Hoegh Osaka.
He said the Solent is a relatively shallow and sheltered stretch of water close to land, which makes this less challenging than other operations. Making things more difficult, though, is the fact it's being carried out in full view of the world's media.
Mr Sperling, the senior salvage master for Svitzer, once served in the Dutch Royal Navy and has worked on more than 90 salvage operations across the world. He holds a Master Mariner licence which allows him to command any ship regardless of size or location.
---
How big is she?
The Hoegh Osaka was built in 2000 as the Maersk Wind for A P Moller
She was sold to Hoegh Autoliners in 2008
Length: 180m (590ft)
Breadth: 32m (105ft)
Draught, the vertical distance between the waterline and the bottom of the hull: 15m (49ft)
Gross tonnage: 51,000 tonnes
Speed: 19.2 knots
Source: www.scheepvaartwest.be
---
He and a team of 14 others have a plan, but what exactly are they doing? And how does the fact that their success determines how much they might be paid affect the operation?
The Hoegh Osaka refloated itself from Bramble Bank off the coast of Southampton on 7 January after being stranded there for four days.
It is now held down at Alpha Anchorage between East Cowes and Lee-on-the-Solent with a group of tugs making sure it stays in place.
More than 3,000 tonnes of water entered the hull on the starboard side after an excavator on board came free, puncturing a hole in the side. This is now being pumped out, with 800 tonnes already removed by Sunday.
The pumps were put in place by the salvage team after dangerous trips in the dark inside the ship, which was listing at a precarious 52 degrees.
"We said initially that it would take five to 10 days but the bad weather hasn't helped," Mr Sperling said.
"We have managed to create a route inside the vessel. We used various types of ropes and hundreds of metres of ropes.
"We can't walk in the vessel so we have to hold on to something, even if it is just A to B and is 20 metres, it takes a few hours."
As of Sunday the list had been reduced to 48 degrees.
"It is all to do with balancing and buoyancy," said a spokesman for Svitzer. "They are going to right it before taking it in to port in Southampton.
"It will then start to go upright, once they get it up to a certain level they can start activating the ballast tanks which balance the ship and use the ship's own equipment."
The team have been gaining access via tugs but once the ship moves further upright a helicopter will lower them and their equipment on to the vessel.
Water will be pumped in or out of huge ballast tanks on either side of the vessel which keep it level as she refloats herself. It is unlikely she will move towards Southampton before Wednesday.
There are 1,400 cars on board, including 1,200 Jaguars and Land Rovers, 65 Minis and 105 JCB machines, as well as more than 100 pieces of heavy machinery.
Many are still in place and securely lashed down, but some are under water.
Pieces of construction equipment came free, which led to a hole being punched in the side of the hull. This has now been repaired and divers inspecting the hull on Saturday found minimal damage.
It has been estimated the cars and machinery on board could be worth more than £60m. The ship's value is unclear, but it was reported on one insurance industry news site as £17.7m ($27m).
Once the ship has been successfully rescued an arbitrator will decide how much the salvage company will be paid.
"The arbitrator will consider factors such as the value of the ship and cargo... what risks and dangers are facing the ship and cargo, how long the operation takes, the expenses incurred and the skill of the salvors," said Joanna Waterfall, a partner at marine law firm Roose and Partners, which is acting on behalf of car companies which own 80% of the cargo.
"Svitzer are considered as professional salvors and their reward will be enhanced to reflect their high status.
"It's a bit like going to a high-end London hairdresser as opposed to your local one, it carries a premium."
The salvage contract operates on a No Cure, No Pay basis, so the extent of the salvors' success ultimately determines their payment.
If a ship were to sink during a salvage service the salvors would only have their costs covered.
A salvage operation can cost millions of pounds to perform, but the rewards can be high if salvors deliver a ship and its cargo with minimal damage.
The Marine Accident Investigation Branch is investigating the incident.