Hoegh Osaka: Stricken ship weathers Solent storm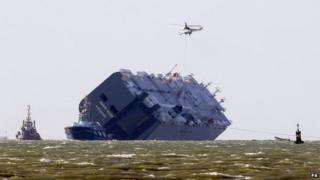 The stricken cargo ship Hoegh Osaka held its position in the Solent overnight, despite severe gales.
Tugs holding the vessel, which is anchored near Lee-on-the-Solent, had been ordered to let it go if they lost control in the storm.
Salvors are due to board the vessel by helicopter and boat to test the pumps and work on the ballast.
About 3,000 tonnes of excess water remains on the vessel and some of the ship's cargo is submerged.
The 51,000-tonne ship, carrying 1,400 cars and 105 pieces of construction equipment, was beached deliberately on Bramble Bank sandbank on 3 January after it began listing as it left Southampton.
It floated free from the sandbank on the high tide on 7 January and was towed to deeper water where it remains.
On Saturday, one of the tugs helping to keep the ship in place collided with the vessel in high winds.
An air exclusion zone is also in place so a dedicated helicopter can carry the salvors to and from the ship.
The team of 15 salvors working on the ship, which is listing at 52 degrees, have so far had to be roped onboard.
Mr Sperling, the senior salvage master, said it could take "a day" to reach some parts of the ship.
He said: "We've managed to create a route inside using metres of rope, but you can't just walk from A to B. It takes a few hours to go just 10 to 20 metres."