Whitehill Bordon army barracks town plan criticised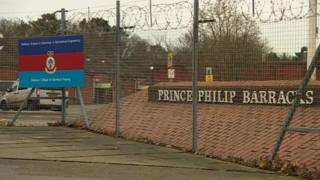 Plans for 2,400 homes and a new town centre to be built on an Army site in Hampshire have been criticised.
Campaigner Peter Parkinson said proposals for Whitehill Bordon were "too many houses in the wrong place."
The barracks will become vacant when personnel move to a new training college at RAF Lyneham, Wiltshire.
But Ferris Cowper, leader of East Hampshire District Council, has expressed enthusiasm for the project.
The development has been proposed under the government's Defence Infrastructure Organisation (DIO), which wants to transform the land the barracks is built on.
Mr Cowper said: "I'm massively excited. It's very rare that you get the chance to build a new community literally from the brown earth upwards, and that's what we're doing.
"I think in years to come it will become a rival to the great community-integrated towns of this country, like Poundbury for instance."
Plans include shops, offices, cafes, restaurants, a gym, swimming pool, and a nursing home.
The DIO has also outlined proposals for secondary and primary schools, a BMX or skate park, allotments, and new road infrastructure.
But, the campaigners have argued existing properties should be refurbished instead.
Mr Parkinson, from Bordon Area Action Group, said: "2,500 houses… would virtually double the town.
"I think doubling anywhere - doubling London - isn't a good idea. Doubling Bordon isn't a good idea."
The land is currently used for training by the Bordon Garrison and about 1,500 jobs will be lost when the MoD relocates.
Whitehill Bordon was one of six areas selected in 2009 for the government's zero-carbon project intended to meet housing needs and tackle climate change.
The deadline for comments to the council is 16 February.
If planning permission is granted work is expected to start in early 2016.