Stricken Solent ship: Hoegh Osaka water pumping begins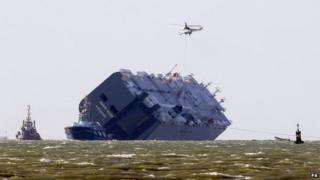 Work to pump about 3,000 tonnes of excess water from the stricken cargo ship Hoegh Osaka has begun.
The Maritime and Coastguard Agency said the operation to pump water from the vessel's lower car deck started at 11:00 GMT.
It said divers found "no significant damage" to the hull of the ship, which is being secured by tugs off Lee-on-the-Solent, during Friday's inspection.
The list of the vessel has been reduced to 48 degrees, the agency said.
The 51,000-tonne ship, carrying 1,400 cars and 105 pieces of construction equipment, was beached deliberately on Bramble Bank sandbank on 3 January after it began listing as it left Southampton.
It floated free from the sandbank on the high tide on 7 January and was towed to deeper water where it remains.
On 11 January one of the tugs helping to keep the ship in place collided with the Singapore-registered transporter in high winds.