Marchwood's Cork's Farm earmarked for energy plants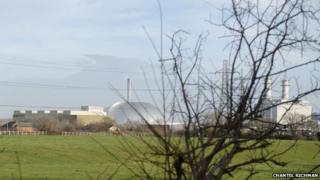 Two energy plants are being planned on agricultural land in Hampshire.
A recycling and energy centre at Cork's Farm in Marchwood, near Southampton, would create power for more than 12,000 homes, according to the developers.
The plans, to be submitted in March, include a small business park and community facilities, such as allotments and a community orchard.
A public exhibition will be held in February to display the plans.
'Power for 12,000 homes'
The proposed £10m development, which would create up to 40 jobs, comes from landowner Barker-Mill Estates and construction firm Trant.
It would generate renewable energy as well as recycle food waste from local supermarkets, restaurants, schools and homes.
Barker-Mill Estates trustee Tim Jobling said: "It has been designed to make as little impact on the surrounding area as possible, and we are keen to work with local residents to ensure that we develop a facility that has a positive impact on the community and local economy."
Recyclable materials would be sorted on site, with plastic, metals and cardboard sent for re-use.
Food waste and wood would be converted into renewable electricity and heat.
Despite being a village, Marchwood is the home of a refuse incinerator, a sewage works, a military port and a power station.
But in a 2011 assessment of Cork's Farm land, New Forest County Council reported the development of this site "would have a negative impact on the character of the countryside" and would result in "loss of land which is part of the backup grazing land resource for the New Forest".