Anger over inaccurate sewage discharge warnings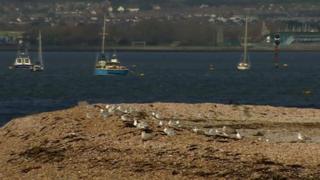 Alerts warning sailors and other water users of sewage discharges in Langstone Harbour are inaccurate and ineffective, a water company has conceded.
Southern Water has issued 300 discharge indications in the last eight months, but just 80 were later verified.
The Eastney Cruising Association said it was being told of the discharges up to "six days after they've occurred".
The water firm said: "We have equipment monitoring the overflow but it isn't giving us the results that we want."
Storm water - a mixture of rain and untreated sewage - is discharged directly into the harbour from several locations.
It is currently monitored with electronic equipment which records the time and duration from an outfall via sensors.
When the fluid reaches a certain level an alarm is triggered and an automatically generated notice is issued, although verification of the spill can take days.
Bob Evans, sailing secretary of Eastney Cruising Association, said: "Days later is no good to our members - so too are so many "false" telemetry messages.
"We need a real-time warning system to notify our members when there is a discharge going on."
The water firm said its telemetry system had its "limitations as a real-time reporting tool".
A spokeswoman said: "We are looking into ways of improving the verifications process to ensure a full set of withdrawal notices are issued to the harbour board, while keeping it as real-time as possible as this would give a more accurate picture of activity."
The water firm said the outfall at Fort Cumberland, which is regulated by the Environment Agency was vital to prevent Portsmouth from flooding.