Search for Winchester matted dogs' owners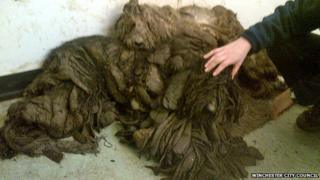 Animal welfare officers have issued an appeal to trace those responsible for nine abandoned dogs whose fur was so matted, their breed was indeterminable.
The strays - eight, one-year-old puppies and their mother - were found in different areas of Winchester, in Hampshire, on Tuesday and Wednesday.
Animal welfare officers at Winchester City Council said the dogs were "unable to see or stand properly".
The dogs are now at a Hampshire kennels where they are being looked after.
Some of the dogs have been clipped and welfare officers have since confirmed they are poodle crosses.
Dave Griffiths, the council's senior animal welfare officer, said: "To see a coat in that condition, I think this is the worst [case] I've ever seen."
He added: "They could hardly walk with the weight of matted coat that was on them.
"Some of them couldn't even stand.
"Some of them were hunched over where their back couldn't straighten."
Four vets in the area helped to clip the dogs.
"It's amazing the difference in the dogs," said Mr Griffiths, "They actually look like they've got some life in them now.
"Now they can actually run and skip and jump a bit."
Information appeal
Three of the strays were found at Upham, three at Morestead Road, two at Owslebury and one at Alresford.
The dogs will be eventually rehomed following treatment and an assessment.
The RSPCA and Hampshire Constabulary will be working with the council to try to find those responsible.
"We'd like any information the public might have," Mr Griffiths said.
He added it was "possible" the dogs may have come from a different area and been "driven here and dumped".