Red Funnel ferry aids Solent capsized boat crew rescue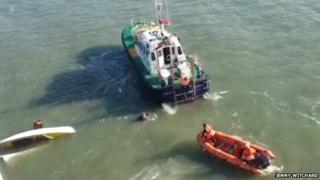 A car ferry stopped to aid the rescue of a capsized dinghy's crew between Southampton and the Isle of Wight.
The Red Funnel ferry launched its rescue vessel and manoeuvred to shelter the stricken craft in Southampton Water, shortly after 12:00 GMT.
A man was picked off the upturned hull. The harbour master's patrol boat pulled a woman and a child from the water.
The three were taken ashore by Hamble Lifeboat and were described as cold but unharmed.
The Red Funnel service was delayed by 30 minutes because of the rescue.
A statement from the ferry company said its crew had acted "swiftly and professionally".
"They are highly trained and regularly practise man over board drills so are well placed to assist in such incidents," it added.