Hoegh Osaka: Work begins to unload cargo off ship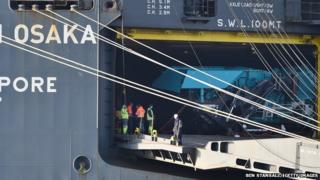 Work has begun to move cargo off the Hoegh Osaka ship, which had run aground in the Solent.
The ship was towed to Berth 101 at Southampton docks on Thursday after being stranded for 19 days.
Salvors and investigators have handed over control of the ship to owners Hoegh Autoliners and heavy machinery is now being assessed.
There is roughly £60m of machinery and cars - including Jaguars, Land Rovers, and Minis - on board the ship.
The 51,000-tonne Hoegh Osaka ran aground on 3 January.
A large stone cutter machine weighing more than 30 tonnes is in the way of crews being able to remove other cargo from the ship, which also includes JCB construction equipment.
Once it is moved, it was likely the other vehicles can be driven off under their own power, a spokesperson from Hoegh Autoliners said.
An investigation by the Marine Accident Investigation Branch is underway.
Speaking after the ship was brought back to port, spokesman Øyvind Erwik said: "A lot of work remains - physical and legal.
"The cargo's condition will only be ascertained when it is safely discharged."
He said the company would not speculate further on the cause of the grounding until the investigation was complete.
The company will also investigate the state of the ship to ascertain what repairs need to be done.
Hoegh Osaka - Stranded in the Solent for 19 days
3 January - Singapore-registered Hoegh Osaka is run aground on Bramble Bank after developing a list, shortly after leaving Southampton, en route to Germany
5 January - A team from appointed salvers Svitzer boards the ship to assess the damage and formulate a salvage plan. It emerges it is carrying 1,400 cars and construction equipment including Jaguars, Land Rovers and JCBs