'Hated' eBay buggy sells for £325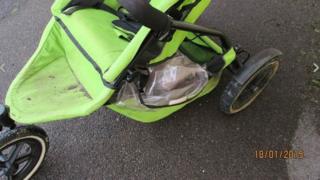 A used buggy listed for sale by a father who joked that it signified the end of his "happy carefree life" has sold for £325.
Joel Andresier, 39, from Southampton, said the pushchair had been covered in "pretty much every bodily fluid known to science" by his three children.
At one stage the highest bid for the three-wheeler stood at more than £150,000, after the advert went viral.
He reset the price after admitting he did not expect the bidder to pay up.
In the listing's description, Mr Andresier, of Sarisbury Green, said: "This was purchased against my wishes many years ago as I never wanted any children and a buggy signified my wife's intent to have children.
"We argued much and this buggy signifies everything that ended my happy carefree low cost child free life."
'Broken eBay'
It prompted six pages of questions which led the advert to exceed the number of customer enquiries allowed by the online auction site.
Mr Andresier wrote: "Looks like I have hit the eBay limit for shared responses to all your wonderful questions. It doesn't look like the last 50 or so replies from today have been added to the listing. Sorry people - looks like you have broken eBay."
On the comments pages, one user described Mr Andresier as a "marketing genius", while another did not see the funny side and said he was "pathetic".
He said he would use the proceeds from the sale to "help me recover from children".
Mr Andresier's wife Susan, 36, had said she found the listing "hilarious", and added the couple had been amazed by its popularity on social media.
'Green monster' for sale: Highlights from the eBay listing
"I have bought cars that cost less than this buggy. My dad once bought a house that cost less than this buggy.
"Anyway as you can tell I hate the buggy. I now have 3 children, and a Labrador and am forced to endure the school run where women I dont know try and discuss the price of centre parc holidays, and the benefits of the micro over the mini micro scooter. To summarize my life is over and this green albatross needs to go round some other poor sods neck.
"All of my children are now walking (often in completely the wrong direction) but someone else deserves to give this a good home. Over the years I have collected spare bits from other zombified fathers who were once full of life and I will throw these in as well."