Portsmouth Naval Base ship halls future revealed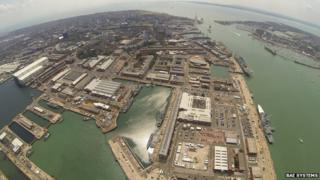 Hundreds of jobs could be created when new companies move into areas at Portsmouth Naval Base previously used for shipbuilding, the Ministry of Defence (MoD) has said.
It has shortlisted BAE, Burgess Marine, and Magma Structures as possible occupants.
Defence Secretary Michael Fallon called it a "significant step forward".
Chancellor George Osborne visited the base earlier to confirm £100m of investment for the site.
New infrastructure is needed ahead of the arrival of the Queen Elizabeth Class aircraft carriers, which will be the Royal Navy's largest warships.
He also confirmed the new Type 26 Global Combat ships will be based at both Portsmouth and Plymouth.
During his visit, which included a tour of HMS Defender, Mr Osborne said the aim was to build a new warship every two years.
He added: "Ensuring a better and more secure future for Britain means equipping our Royal Navy for the challenges of the 21st Century.
"Our ambition is to deliver the most modern navy in the world, which this government believes is a national necessity.
"It will maintain and create jobs and deliver a more secure future for Britain."
The MoD said it wanted to support growth in the region and use the site "in the most effective way".
Negotiations will take place in the coming weeks to decide which company - or companies - will occupy the halls.
---
Portsmouth ship halls proposals
BAE Systems wants to base its maritime services at the facility, working on the Royal Navy's hunt-class mine countermeasures vessels, utilising 200 jobs
Burgess Marine wants to construct and fit luxury yachts, creating 200 jobs
Magma Structures wants to move its manufacturing plant there, securing its workforce of 180 "with the potential for future employment"
---
Mr Fallon said: "It offers the opportunity to open up the shipyard to more firms providing high skilled jobs.
"This is an exciting time of regeneration for Portsmouth Naval Base, with the MoD investing £98m over the past year.
"This will help ensure that Portsmouth retains its maritime engineering expertise and traditions."
In November 2013, BAE Systems announced it was ending shipbuilding in Portsmouth.
It said 175 of its staff were re-employed in its maritime services division, 585 voluntarily left to take employment elsewhere, whilst 160 were given compulsory redundancies.