Hampshire hospital shake-up plans on display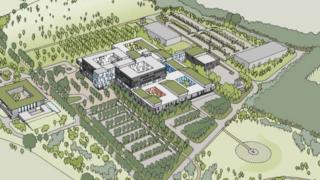 Plans for a shake-up of hospital services in Hampshire are on display at a public exhibition.
The county's NHS Trust wants to build a new £150m hospital that specialises in critical treatment.
The hospitals at Basingstoke and Winchester may be redeveloped to focus on non-emergencies, while main towns such as Andover, Eastleigh and Alton could get their own care centres.
An action group has been set up by residents opposing the plans.
The new hospital would be only one of two critical treatment hospitals in England, the other being in Cramlington, Northumberland - due to open this summer.
Traffic concerns
Critical treatment, such as that provided for patients who have suffered heart attacks, strokes or major injuries, accounts for 15% of all care Hampshire Hospitals NHS Foundation Trust provides.
The proposed site is near the village of North Waltham at J7 of the M3.
It is a greenfield site but according to the trust it offers "the shortest possible ambulance time for our whole population".
The trust said the "majority of patients" would be treated at the existing hospitals at Basingstoke and Winchester "where we are investing in the services to further develop them".
It is also developing services in Andover, Eastleigh and Alton using fixed and mobile services to provide walk-in urgent care, outpatient consultation, MRI scanning and chemotherapy.
The North Waltham Action Group opposes the plans for the new hospital because of concerns over traffic, noise and light pollution, and the effect the development will have on the rural landscape.
Plans can be viewed at Basingstoke Golf Club in Kempshott Park on Wednesday and Thursday.