Stranded Solent ship: Hoegh Osaka emptied ahead of repairs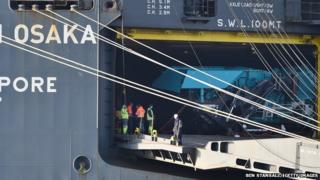 More than 1,400 cars have been taken off a cargo ship that was stranded in the Solent for 19 days.
The Hoegh Osaka, which had been listing at roughly 50 degrees, was run aground after developing problems on January 3.
It was carrying more than £60m worth of Jaguar Land Rover, Hyundai and Mini cars, as well as JCB vehicles.
The 51,000-tonne vessel was towed to Southampton where it took dock workers almost two weeks to remove the vehicles from the ship.
Most were driven off under their own power but four remained on Friday and were so badly damaged specialist equipment was used to remove them.
The ship spent 19 days on Bramble Bank, then Alpha Anchorage between East Cowes and Lee-on-the-Solent, before being towed to Berth 101 at Southampton.
It is due to sail under its own power to Falmouth, Cornwall, for repairs.
A spokesman for the owners of the ship, Hoegh Autoliners, said it would be at the repair yard in Falmouth for two or three weeks.
After repairs to steelwork and the hydraulics, it will sail back to Southampton to be loaded back up with cars for the voyage to Bremerhaven in Germany, which it was supposed to complete on 3 January.
A previous inspection showed only "minimal damage" to the ship.
The incident is being investigated by the Marine Accident Investigation Branch.
Hoegh Osaka - Stranded in the Solent for 19 days
3 January - Singapore-registered Hoegh Osaka is run aground on Bramble Bank after developing a list, shortly after leaving Southampton, en route to Germany
5 January - A team from appointed salvers Svitzer boards the ship to assess the damage and formulate a salvage plan. It emerges it is carrying 1,400 cars and construction equipment