Hepatitis A in Portsmouth sparks staff and pupil vaccinations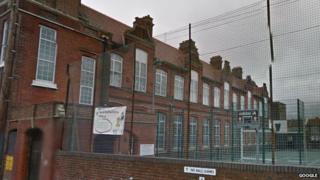 A hepatitis A vaccination programme is to be extended to all children and staff at some schools in Portsmouth after a "cluster" of cases in the city.
Children and staff at Isambard Brunel Junior School, Meredith Infant and Pre-school and Izzies Nursery School have been offered the treatment.
A pupil at Isambard school contracted the illness at the end of January.
The vaccination was at first offered to a "small number" of pupils, but this is now being widened as a precaution.
Nausea and vomiting
Dr Anand Fernandes, consultant for Public Health England (PHE), described it as "a reasonable precautionary step to take even though there have been no cases at the nursery and pre-school".
All the establishments are around Wymering Road in Portsmouth.
PHE said the majority of identified cases had been transmitted through contact at home and not at school.
Hepatitis A, which is often associated with foreign travel, is spread through contaminated food and water.
Symptoms can vary from no signs of illness, to a flu-like illness, jaundice, headache, fever, loss of appetite, nausea and vomiting.
There was also an outbreak of hepatitis A in Portsmouth in November, in which seven people were infected and up to 150 people vaccinated. The two outbreaks are not being linked.