Hampshire man wins £93k on £2 football bet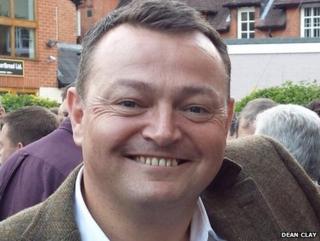 A Hampshire man has won nearly £93,000 from a £2 football bet.
Father-to-be Dean Clay, from Chandler's Ford, put on an accumulator bet and correctly predicted the outcome of 14 games over the weekend.
His win rested on a draw between Burnley and West Bromwich Albion, which came in while he was playing golf.
"I was on the 14th fairway when I heard a little bleep and saw it was 2-2 and about 20 minutes to go. My head went into a bit of a mush after that."
'Stiff drink'
Thirteen of the games had been played on Saturday, but the decider was played on Sunday.
The 48-year-old Chelsea fan went to play golf as he was too nervous to watch the game.
"I played quite nicely at the start," he said, "but I was getting some updates.
"When it went to 2-0 to Burnley I thought 'well that's that then'.
"Then I saw West Brom had equalised right on half time."
After news of the draw Mr Clay, 48, left his phone in his bag.
"I just couldn't look at it anymore as it was injury time at that point."
He was on the 16th green when some friends who were aware of his bet "came rushing over jumping up and down".
He said: "Then I realised I'd won."
He went to the clubhouse where he needed a "stiff drink and a sit down".
He thought he had won £69,882 but when he walked into the betting shop on Monday he was told he had also won a bonus, making his total winnings £92,944.
"It's lucky that my wife and I were standing near the counter," he said, "as I think we both would have hit the deck at that point."
The Clays have a baby due in July and are in the process of buying a new home.
Mr Clay said: "The timing couldn't be a lot better."