Wightlink cross-Solent Isle of Wight ferry firm sold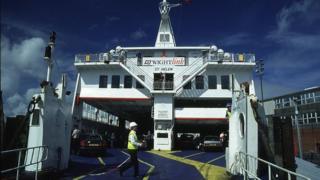 Wightlink Ferries which operates cross-Solent sailings between the Isle of Wight and the mainland has been sold.
Balfour Beatty Infrastructure Partners LP (BBIP) has purchased the firm from Macquarie European Infrastructure Fund (MEIF) for an undisclosed sum.
Wightlink said there would be no changes to staffing, pricing, routes or schedules.
The Rail, Maritime and Transport union (RMT) said it would "seek assurances" there would be no threat to jobs.
In 2012, the firm was criticised for axing some night sailings on the three routes, which led to redundancies.
Mick Tosh, the RMT's Wessex regional organiser, said the union would arrange a meeting with the new owners.
'Strong and stable'
The ferry company employs about 500 members of staff, which rises to about 600 during the summer months, a spokeswoman said.
It operates crossings between Portsmouth and Ryde, Lymington and Yarmouth and Portsmouth and Fishbourne.
Earlier this year, three businessmen launched a campaign to take over the operator, in a bid to stop price rises and increase crossings.
Steven Lowry, of BBIP, said: "Wightlink is a strong and stable company with the opportunity to grow and develop in the years to come."
Wightlink's chief executive Russell Kew said it had a "secure future".
Analysis
Paul Clifton, BBC transport correspondent
Macquarie bought Wightlink with borrowed money: It carried a lot of debt. So plenty of Wightlink's very healthy operating profit was spent servicing that debt.
Islanders frequently criticised that. They wanted more of the money spent on services.
During the firm's 10-year ownership, five new ferries were built, costing £70m, including larger ships for the route between Lymington and Yarmouth.
But fares rose, and more recently lightly-used late night services were cut to trim costs, and staff numbers were reduced.
The key question is how soon the new owners will invest in ships.
Wightlink operates the two oldest ferries on the Solent. Within a handful of years they will have to be replaced.
The operator is a lifeline for the Isle of Wight, so it is a solid business, but its financial success depends heavily on how well the island's seasonal tourism economy performs.