Winchester Silver Hill: Leader Robert Humby stands down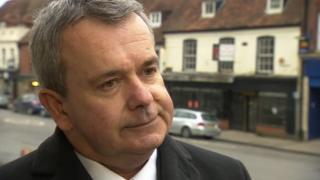 The leader of a council responsible for "unlawful" decisions over a £165m shopping development is stepping down.
Conservative leader of Winchester City Council Robert Humby said he "must take responsibility" for the High Court judgement over Silver Hill.
The Liberal Democrat group had been planning to put forward a motion of no confidence in the leader on Thursday's full council meeting.
The High Court ruled decisions relating to the city centre plans were unlawful.
A judge said the council had acted unlawfully on 11 February by allowing the developer to revise the Silver Hill plans without putting the scheme back out to commercial tender.
Mr Humby said at the time: "I won't stand down. As leader of the council my job is to lead the council through this difficult process."
'Badly wrong'
In a statement on Tuesday he said: "I stand by the decisions I and the cabinet made on Silver Hill.
"Nevertheless, I was leader when the court decision was handed down and so must take responsibility for that judgement.
"The decisions on Silver Hill were taken after consulting with officers and taking external legal advice."
Liberal Democrat Martin Tod said: "It was the right thing for him to resign. Things have been going badly wrong.
"It is not just down to him things have gone wrong and we wanted to change the administration."
The Conservatives have 28 seats on the council, Liberal Democrats have 25, Labour has three and there is one Independent councillor.
The Department for Communities and Local Government spokesman said it is considering whether to call-in the planning case.
The department has issued a direction which means all action must be frozen on the application.