Ryde's Planet Ice closure: Campaign to save rink gathers pace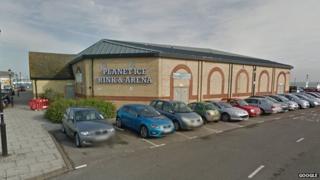 A campaign to save the Isle of Wight's only ice rink has gained more than 7,700 signatures in less than 48 hours.
Staff at Planet Ice in Ryde were told on Tuesday the rink would close on 25 March because it is making a loss.
Forty jobs are at risk at the rink - 34 staff and six self-employed coaches.
It is home to Wightlink Raiders Ice Hockey Team and is used by a number of figure skaters. The nearest rink is on the mainland at Gosport 24 miles away - a 1 hour 40 minute journey via a ferry.
'Devastating'
Nici Delap whose 12-year-old daughter trains as a figure skater at Planet Ice, said "even though it's a small rink on an island it gives the kids phenomenal scope" as some go on to become professional skaters.
"When the news came out on Tuesday it was devastating," she said.
Hundreds of people have left messages of support for the rink on Facebook.
The Wightlink Raiders posted: "The rink is a crucial part of the island's community and has been part of island life for so many years, so the idea of it disappearing for good is not an option in our eyes."
It is understood the lease can be taken over for £5.
In a statement Isle of Wight Council said it was "seeking urgent clarification from the tenant as to how it intends to comply with the obligation in its 125-year lease to operate the facility as an ice rink for a minimum of 15 years."
The council said the lease started in February 2001.
The authority added it intended to "raise the disappointing news with Sport England to see if there are any options that can be explored".