Shopper's 'disgust' at Havant Tesco magpie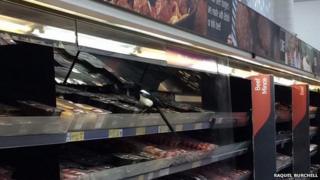 An adventurous magpie shocked shoppers at a Tesco store when it flew inside and started pecking at packets of meat.
The flying food filcher was spotted in the supermarket on Solent Road in Havant, Hampshire, on Wednesday.
One shopper, Raquel Burchell, said: "It was disgusting. Its beak was in the packets eating raw meat. It was horrible."
Tesco said the magpie had been safely released from the store.