Marwell Wildlife's zebra art trail announced for Southampton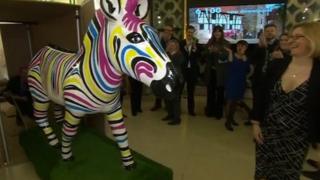 Hundreds of zebras will be seen on the streets of Southampton in 2016 as part of an art trail.
Marwell Wildlife revealed the zebra as its flagship species for the charity fund-raising trail at Southampton Art Gallery.
Project manager Kirstie Mathieson said the trail was a "great way of showing and showcasing our beautiful city".
In 2013 36 life-sized rhino sculptures formed an art trail in the city and raised £124,700 at a charity auction.
Ms Mathieson described the zebra as a "really, really important species for us and we couldn't think of a better species to focus on".
Quo bassist
Satvir Kaur, cabinet member for communities at Southampton City Council, said: "We were delighted with the public's response to the Go! Rhinos trail in 2013.
"Residents and visitors to the city loved these colourful and creative additions to our public spaces, with tens of thousands of people having their photo taken next to one of these fabulous pieces of art."
The fibreglass rhinos were placed around the city for 10 weeks to raise awareness of the plight of rhinos in the wild, and were seen by 250,000 people.
John "Rhino" Edwards, bass player with Status Quo, even bought a green mosaic rhino called Enrhinomental for £4,000.
The zebras will be sponsored by businesses and decorated by professional artists and local schools.
Funds raised will go to local charities.