Arsene Wenger Southampton confrontation fan banned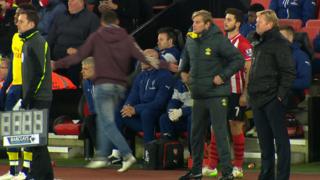 A football fan who confronted Arsenal boss Arsene Wenger during his side's 2-0 Premier League defeat at Southampton has been banned from matches for three years.
The supporter entered the technical area at St Mary's on New Year's Day.
Luke Bryant, 26, from Lymington, pleaded guilty before Southampton magistrates and was fined £500 and ordered to pay £200 costs.
Bryant, of Bankhill Drive, was made the subject of a football banning order.
He was seen running with his arms outstretched in front of the Gunners' boss as he sat in the dugout.
Footage showed Bryant being bundled away down the tunnel by two stewards as Wenger held his arm out in apparent frustration at the intruder.
It is believed he is an Arsenal fan, but Arsene Wenger said at the time he thought the man was a Saints fan.