Police body-worn cameras linked to Isle of Wight crime drop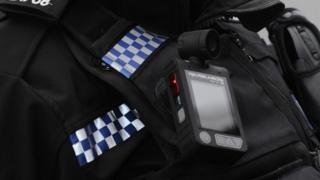 A drop in public order offences and assaults on officers has been linked to the introduction of police body-worn cameras on the Isle of Wight.
A university study found recorded crime on the island dropped 8% since their use compared with 3% in Hampshire.
The results have led the force to commit to a further 500 cameras for frontline officers, bringing the total number to 2,800 in the next year.
It comes after footage of an attack on an officer was recently used in court.
Craig Radbourne, 25, was jailed last month for assaulting Sgt Kerry Lawrence as she responded to reports of a burglary in Basingstoke in July.
Emma Vardy, BBC South Home Affairs Correspondent
"A picture is worth a thousand words", so the adage goes and body-worn cameras are certainly having a striking effect in court cases.
When a crime and the aftermath is captured on film, judges and juries are now able to see for themselves the emotion of the situation and the behaviour of an offender in that moment.
Sometimes a far cry from the now remorseful-looking character wearing a suit in the dock.
Expect more "caught on camera" news stories and reality programmes in future too.
But there will be challenges and disputes over what some pictures truly show. The behaviour of police officers, sometimes a cause for controversy, is now able to be scrutinised in greater detail.
Cameras have been rolled out to a number of officers in the Hampshire force over the past few years.
University of Portsmouth researchers said its study, which was commissioned by Hampshire police, independently evaluated the year prior to and after 1 July 2013 when all officers on the Isle of Wight were issued with them.
It found public order crimes fell from 211 to 155, while assaults on officers dropped from 76 to 49.
The results also showed an increase in domestic assault prosecutions where, in some cases, police and the Crown Prosecution Service could rely on the footage without the need for victims to testify.
Simon Hayes, Police and Crime Commissioner for Hampshire, said: "[The report] provides irrefutable evidence and compelling support for the investment I have made in this technology.
"[It] identifies clear benefits to victims of crime, plus officers, and should be of some reassurance to society as a whole."
But Emma Carr, director of Big Brother Watch, said forces must be clear in alerting the public when they were being filmed.
She added: "If these cameras are implemented properly, particularly with regard to whether officers are able to access the memory cards or tamper with the footage in another way, there is potential for this to improve accountability of the police."