Langstone Harbour little terns to be attracted by hand-painted models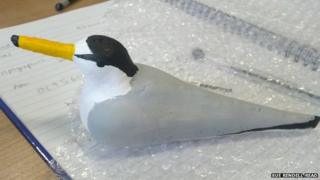 Conservationists have resorted to hand-painting more than 100 model birds in a bid to draw threatened seabirds back to Hampshire.
Breeding colonies of little terns on the islands of Langstone Harbour on the Solent have dropped from 171 to 31 pairs over the last 30 years.
Wez Smith, from the RSBP, said the models, with recordings of their calls, would hopefully reverse the decline.
The charity has also moved 1,500 tonnes of shingle to the site.
A further eight tonnes of crushed cockleshells could also prove attractive to the birds on Baker's Island, South Binness Island, and The Round Nap.
The RSPB describes the harbour as "home to one of the UK's most important breeding colonies of little terns".
The small, shingle-nesting seabirds travel 6,000 miles (9,656 km) from Western Africa and back each year to breed in the harbour and raise their young on sand eels and small fish.
But the nesting sites are vulnerable to storms, predators, human disturbance, and fluctuations in food supply.
The project has raised £160,000 through fundraising, with the models being hand-made by local volunteers.
Mr Smith added: "Over the breeding season we'll be monitoring the nesting sites on a continual basis, both via boat and camera, in an effort to head off any unnatural problems."