Winchester dumped matted dogs ready to be rehomed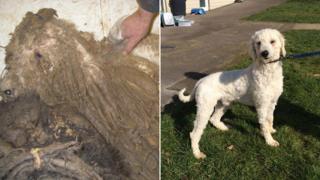 Two dogs found covered in kilos of matted fur in Winchester in January are ready to be rehomed.
The RSPCA is appealing for members of the public to come forward and take in Dave or Mavis after their "transformation".
In total nine dogs were discovered barely able to walk or stand under the weight of in 12kg (26lb) of matted fur.
They were dumped in and around Winchester and were in such a bad state their breed could not be identified.
Winchester City Council's animal welfare officers described it as the worst case they had seen.
Dave is looking for someone to adopt him and sister Mavis is in need of a foster home to get her used to a domestic environment.
They are both white poodle crosses.
Dave is 18 months old and is being cared for at the RSPCA's Mount Noddy Animal Centre in Chichester.
The RSPCA said: "He will need patient, experienced owners who have the time to train him and help him settle into a new home as he can find some things overwhelming."
Someone who is at home a lot would suit Mavis as she "suffers from separation anxiety."
Neither of the dogs have lived in a home before.
Two of the other dogs have already been fostered and the other five still need care before new owners are sought.
The RSPCA and Hampshire Constabulary are working with the council to try to find those responsible for the animals' ill treatment.