Portsmouth businesses gearing up for USS Theodore Roosevelt visit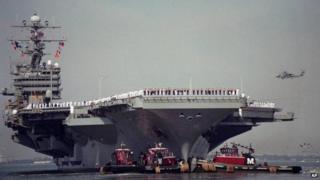 Businesses in Portsmouth are gearing up for the arrival of more than 5,000 US Navy sailors in the city.
The USS Theodore Roosevelt, which is too big to enter Portsmouth harbour, will anchor off Stokes Bay, Gosport from Sunday evening.
The crew will be given shore leave during the vessel's five-day stay.
Many of Porstmouth's bars and clubs have planned special events and festivities in the hope of benefiting from the influx.
Kevin Briscoe, chairman of the Portsmouth area committee of Hampshire Chamber of Commerce said: "Their arrival is a great opportunity for businesses in the city.
"We are really looking forward to showing it off to the thousands of US personnel from the aircraft carrier."
The visit is the ship's first port of call in its round-the-world deployment.
Among Roosevelt's crew are six Royal Navy aircraft handlers who are honing their skills before serving aboard the new Royal Navy carrier, HMS Queen Elizabeth, which enters service in 2017.