HMS Warrior awarded £2.6m grant for repair works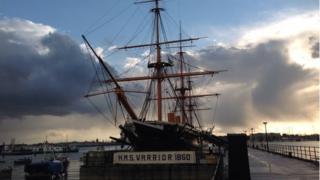 The world's first iron-hulled, armoured battleship has been awarded £2.6m funding for repairs.
HMS Warrior at Portsmouth Historic Dockyard secured the funding from the Heritage Lottery Fund as part of a wider £3.6m project.
The 1860 ship, which is visited by 260,000 people each year, needs repair work to ensure it remains watertight.
HMS Warrior was launched in in 1860 and was the pride of Queen Victoria's Black Battle fleet.
It was the largest, fastest and most powerful ship at the time, but it was sold in 1924 to be converted into an oil pontoon.
In the 1980s it was rescued and restored as it was the last survivor of the original fleet.
Rear Adm Neil Latham CBE, chairman of the Warrior Preservation Trust, said: "Once complete, Warrior will provide a dynamic visitor experience, excellent community engagement and research opportunities whilst securing the future of this remarkable ship for future generations."
The preservation works, expected to take two years, will include repairs to the bulwarks and water bar, which are deteriorating and putting the ship "at significant risk".
A fundraising project is now being launched to raise the remaining £1m for the works.