Evey Staley death: Robert Blakely sentence appeal rejected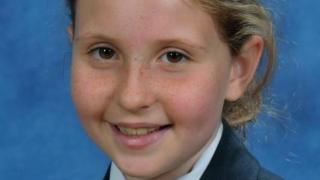 A man convicted for drinking and taking drugs before a crash that killed a 10-year-old on the Isle of Wight has had an appeal over his sentence rejected.
Evey Staley was a rear seat passenger in the family car when it was hit by Robert Blakely's car in August 2012.
He was jailed for 10 years for causing death by driving without due care while under the influence of alcohol.
His lawyers argued at London's Criminal Appeal Court that both his jail term and driving ban were excessive.
Luke Ponte, representing Blakely, told the judges that he was still "wracked with guilt".
"Mr Blakely understands that he has caused the Staley family grief beyond expression and nothing in my submissions should be seen as detracting from that," he said.
He went on to argue the jail term ought to have been shorter, given Blakely's prompt guilty plea and genuine expression of remorse.
Refusing the sentence appeal, Mr Justice Males said there was "nothing wrong in principle nor manifestly excessive" about this sentence.
Also throwing out his appeal against the driving ban, the judge concluded: "This appellant has a bad driving history,
"His selfish conduct on this occasion demonstrated a wholly unacceptable attitude to driving when over the limit."
The court heard Blakely was in the habit of drinking strong lager every lunch time and in the evening.
On the day of the crash, he had also smoked several cannabis joints before leaving a pub in Cowes to head home to Sandown.
Evey's father Neal, who set up the Isle Drive Safe - Remember Evey campaign after her death, described the family's "utter relief" at the appeal court's decision.
"We've had to come up to London and be dragged through this appalling process.
"We now know that justice has been down for Evey," he added.