Royal Navy thrashes USS Theodore Roosevelt football team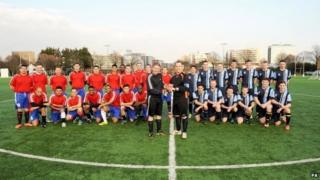 A Royal Navy football team have thrashed their counterparts from visiting aircraft carrier USS Theodore Roosevelt.
The players from HMS Diamond won 15-2 against a soccer team from the US warship, which is currently on a five-day visit to Portsmouth.
Joseph Vallely, 24, from HMS Diamond, said the match was "good for morale".
US sailor Brian Flood, said: "It's fantastic to get out here and meet some of the Brits."
Portsmouth is the first stop on USS Theodore Roosevelt's global tour.
The 1,000ft (305m) American ship has had to anchor at Stokes Bay, Gosport, because it is too big to enter Portsmouth Harbour.
Mr Flood said: "It's nice to interact with the local teams rather than just go and see the sights.
"I have been playing my whole life so to get to play a game here is really exciting."