America's Cup: Race village to be set up in Portsmouth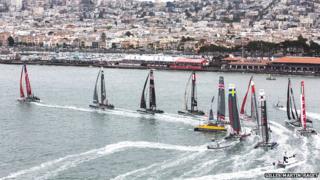 Portsmouth is to get a race village for when it hosts two preparation events for yachting's 35th America's Cup.
The area in Southsea Common will provide a free viewing platform and large screens during the race in July.
On water spectator plans have also been unveiled with a protective exclusion zone around the course for people with boats in the Solent.
There will also be a 10 knot speed limit for non-race boat users to make as minimal wash as possible.
Organisers said the course is "amazingly close to shore" and spectators will get the best views from the main race village areas.
There will also be large screens showing live coverage, commentary and onboard footage.
The America's Cup World Series (ACWS) races will take place from 23-26 July and 21-24 July 2016.
Ben Ainslie Racing (BAR), the team of Olympic champion Sir Ben Ainslie, is the British challenger.
America's Cup explained
•First staged in 1851 off the Isle of Wight in England. Won by US yacht America
•No British team has won it, but Sir Ben Ainslie is hoping to change that with his new team
•Racing is boat-on-boat, called match-racing
•Takes place roughly every three to five years