New home for Isle of Wight bus museum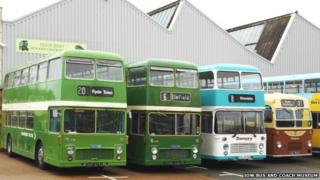 The Isle of Wight Bus and Coach Museum has reopened to the public at new premises.
The volunteer-run museum was established in 1997 to maintain a collection of vintage buses and coaches that once operated on the island.
The vehicles, the oldest of which dates back to 1934, have been moved to a former bus depot at Park Road in Ryde.
Spokesman Paul Wheeler said it had been a "big task" to move the collection of 22 vehicles from the old Newport site.
The museum was originally housed in two Isle of Wight Council-owned buildings.
However, at the new location the museum owns the freehold land and buildings.