'Crumpet Party' rebranded after ballot paper name ban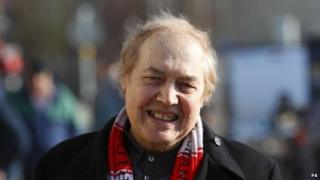 A party whose "offensive" name was banned from ballot papers amid complaints it was demeaning to women has rebranded itself.
The Beer, Baccy and Crumpet Party was told by the Electoral Commission its name could not appear on voting slips.
Leader Ray Hall, will now stand for the newly-christened Beer, Baccy and Scratchings Party in Eastleigh, after "discussions in the pub".
"Scratchings was the nearest name I could come up with," he said.
"It is amusing. It is public house humour."
But, Mr Hall added: "We do have serious policies as well."
The party's new name was accepted by the Electoral Commission on Wednesday and Mr Hall officially registered with the returning officer before the deadline at 16:00.
He said he planned to go for a "celebratory drink" afterwards.
Mr Hall previously said he did not believe crumpet was a sexist term, and there were "far worse words" used to describe women.
Mr Hall received 235 votes in 2013's Eastleigh by-election after Chris Huhne resigned.
Candidates expected to stand in the Eastleigh constituency are:
Declan Clune (Trade Unionist and Socialist Coalition)
Patricia Culligan (UKIP)
Mims Davies (Conservative)
Ray Hall (Beer, Baccy and Scratchings Party)
Mark Latham (Labour)
Ron Meldrum (Green)
Mike Thornton (Liberal Democrats)