Anglers' fury at Hayling Island Sailing Club fishing ban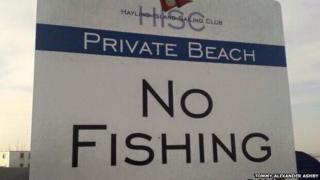 Anglers have criticised a ban on fishing from a Hampshire beach imposed by a sailing club after children were injured by fishing hooks.
Hayling Island Sailing Club erected signs prohibiting fishing on what it said was private land.
Jamie Bailey said fellow angles were "very, very angry" at the notices on Hayling Beach.
A club spokeswoman said it had put the signs up after children had been injured by hooks left on the ground.
Mr Bailey, who said his family has fished on the beach for the last 40 years, said there had "never been an issue before".
"We're just here to have fun and enjoy our hobby - like they are. We're no trouble to them really."
He said the beach was a "hotspot" for bass.
The club said it had taken legal advice and anglers had rights of access over the beach, but not to fish from the beach.
A spokeswoman insisted anglers could use the beach to access boats from which they could fish from.