Ashya King: £360 of Kids'n'Cancer charity donations refunded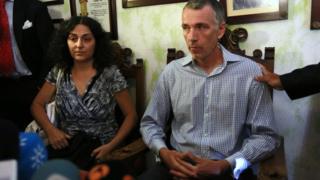 A charity that collected £50,000 for brain tumour patient Ashya King but refused to give the cash to his family has said it has refunded £360 of donations following seven requests.
Kids'n'Cancer UK said several thousand donations were made following its appeal for the five-year-old boy.
When the NHS agreed to fund his treatment, the charity said it would spend the cash on other children.
The Charity Commission said it had "no further regulatory concerns".
Ashya's parents Brett and Naghemeh King, from Southsea in Hampshire, removed him from Southampton General Hospital in August after disagreeing with doctors about his treatment.
They wanted their son to have proton beam therapy, which was not recommended by the doctors caring for him.
The couple were later arrested in Spain under a European arrest warrant, which sparked an international outcry.
The Charity Commission said it contacted Kids'n'Cancer UK after concerns were raised in relation to funds it received in the days following the Kings' arrest, when it offered to underwrite and pay for proton therapy treatment.
Ashya's brother Naveed King previously criticised the charity for not paying the family's legal fees, but Kids'n'Cancer UK said it could not legally give money to meet such costs.
It also said the Kings had made money from the media and online appeals.
In a statement, the Charity Commission said the trustees had responded to its request for information, which it had since assessed.
It said it understood funds raised for the Ashya King appeal remained with the charity, and added it had worked with the charity "to ensure that funds are treated in accordance with the legal framework relating to these situations".
"We issued the trustees with advice and guidance about how they may or may not be able to take matters forward, and understand that any donors who have requested their donations be refunded have received them back," it added.
"We have no further regulatory concerns about this matter."
However, it said it did have an existing case - unrelated to that of Ashya - involving the charity's fundraising practices and financial controls, following concerns raised by members of the public.
It said it was not investigating Kids'n'Cancer UK but added it was "engaged with the charity" and would be making a visit "to assess its financial controls and general governance".
Kids'n'Cancer UK said it related to someone with "a personal grudge" against the charity's founder, Mike Hyman.
---
Key events
Ashya had surgery for a medulloblastoma brain tumour at Southampton General Hospital in July 2014
His parents, Brett and Naghemeh, removed him from the hospital on 28 August and sparked a manhunt when they travelled to Spain
They were arrested but later released and Ashya was flown to Prague, in the Czech Republic, for proton beam treatment
He had six weeks of proton beam therapy, which cost between £60,000 and £65,000, according to the treatment centre, and was paid for by the NHS
Ashya returned to hospital in Spain
In March, Brett King announced his son was free of cancer
---